Whenever we talk about the legacy of Apple products we surely ignore the feature of carplay in an iPhone or in general otherwise. This might be because of the limited use or because of the fact that some people simply don't own cars or use the feature in their cars when they actually get down to the business of driving or taking a faraway journey. But today in this blog we shall talk about Apple CarPlay in iOS 17, the new features and everything that's going on with the design and behind the design. Stay tuned folks!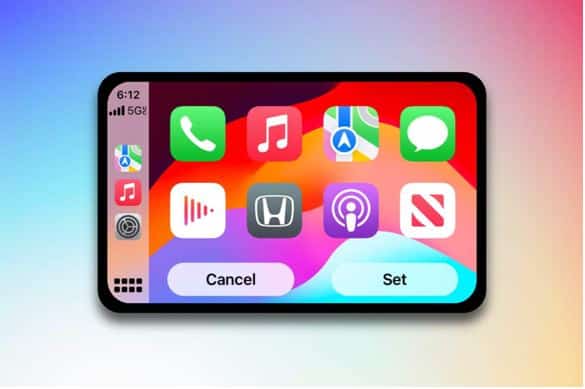 Source: App Gefharen
Apple Carplay in iOS 17 – A Worthy Update or Not?
As we know CarPlay did not receive much attention in Apple's WWDC keynote event but that doesn't mean the company has no plans for developing new features. Let us first talk about the Apple carplay on iOS 17 features that were not there to be seen before.
SharePlay Support
First things first, Apple has made it a bit simple for users to play songs, control the car's music output and use maps and other features without the use of Apple Music or any other authorised application from Apple. You just need to have the SharePlay support to play music from your phone without having to worry about iTunes, Apple Music, or any such subscription in your kitty. Simple isn't it?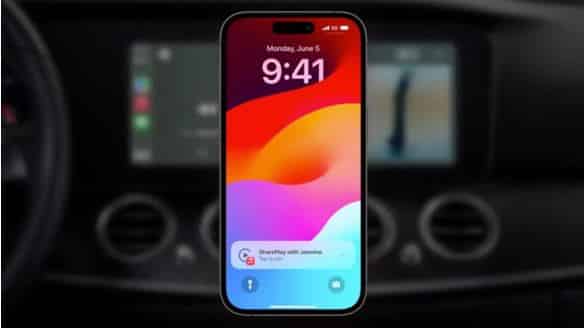 Source: Team-BHP
To primarily use SharePlay you must make use of the new CarPlay feature and if you do not find the option you must update to iOS 17 to get the latest version in your iPhone or iPad. This is the most convenient of all updates you get with the Apple CarPlay iOS 17 new updates and there are bound to be more in the remaining months of 2023.
Real-time Charging Info for Electric Drivers
There is no dearth of electric car owners in the country and the number has started to increase substantially in the past year or so in India. Owing to this development, Apple has introduced the help they could provide using Apple Maps that will allow electric vehicle drivers with real-time charging availability information for their preferred charging network.
The feature extends to the Maps app on CarPlay making it super convenient for drivers to find an available charging location while driving. This feature may get better utilised in the country as more and more electric vehicles and charging stations will be made available in the days and months to come.
Talking of the Apple CarPlay iOS 17 design we can start with the all-new interface that takes away most of the attention. Carplay includes a new interface for replying to messages, as seen in the picture below. This conveniently allows passengers or even the drivers to communicate using the least number of taps in a super easy to navigate interface.
Source: Arm Mac
Tip: the new CarPlay features are automatically available after updating an iPhone on iOS 17. The software update is mandatory and will bring along the said changes, updates, and new features that we just mentioned above. The first thing you would notice is the brand new design that captures the user's attention and it is now easier to navigate across all the available options on Apple CarPlay post the iOS 17 design upgrade.
Things To Know – Apple CarPlay in 2023
Here are some of the common uses of CarPlay in iPhone that you must take the advantage of in 2023:
App Integration: CarPlay supports a range of apps that have been optimised for in-car use. These apps include Apple's own apps such as Phone, Messages, Apple Maps, Apple Music, and Siri, as well as third-party apps like Spotify, Waze, WhatsApp, and more. App developers can integrate their apps with CarPlay to provide a seamless experience for users.
Siri Integration: CarPlay offers hands-free control through Siri, Apple's virtual assistant. Users can activate Siri by pressing a button on their car's steering wheel or using a voice command, allowing them to make calls, send messages, play music, get directions, and perform other tasks without taking their hands off the wheel.
Navigation: CarPlay provides a simplified and familiar mapping experience through Apple Maps. Users can get turn-by-turn directions, search for points of interest, view real-time traffic information, and receive proactive suggestions based on their calendar, contacts, and previous locations. CarPlay also supports third-party navigation apps like Google Maps and Waze.
Communication: With CarPlay, users can make and receive calls, send and receive messages, and access their contacts through the integrated Phone and Messages apps. Siri can read out incoming messages and allow users to dictate responses, ensuring a safer and hands-free communication experience.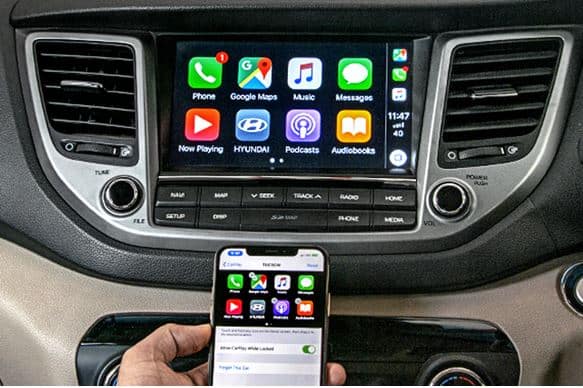 Source: Autocar
This was all the information that was available about the latest Apple CarPlay iOS 17 features, design, and new upgrades. Stay tuned for everything in the techlicious world of Apple and Apple products.
Got issues with your iPhone, iPad, or MacBook device? A trustworthy repair centre not in sight? Don't worry, the experts can help you get a free pickup and drop service and provide the bright repair solution for all your Apple woes. Call today for Apple screen replacement, battery replacement, and other top repair services.