The stock Android experience backed top-notch hardware at a killer price point is what makes OnePlus smartphones stand out. But then again, random issues are part and parcel of technologies and OnePlus' offerings are no different.
One of the most common issues that a large number of OnePlus users have reported recently are problems with microphone or headphone. While some users have reported that the microphone doesn't deliver audio at all, others have complained that their ear speaker or even headphones (when connected with the device) don't provide audio properly. Whatever could be ailing your device, we have got you covered with some viable tips and tricks to troubleshoot the OnePlus microphone or headphone issue. That said, let's get started with the guide!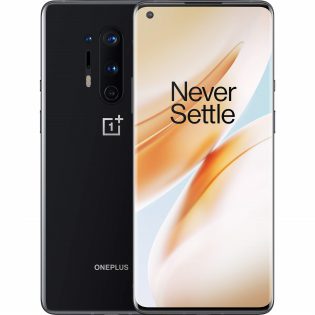 Restart Your OnePlus Device
To get started, let's first try out the solution that often works in fixing common issues. As you may have already guessed, we are talking about the restart. Whether it is solving the app freezing issues or the sluggishness, a quick restart often comes in handy in taking control of miscellaneous problems.
Press and hold the power button and when the power options shows up, press the Restart option. Once your OnePlus device has rebooted, check out if the microphone/headphone has started to work normally. If it has, you are good to go!
Remove gunk from the microphone hole
Believe it or not, tiny particles of smudge and gunk often tend to sneak into microphones and prevent them from working properly. At times, gunk or debris completely blocks the microphone from delivering sound. Therefore, it's always recommended to clean them frequently.
You can use a soft ended toothpick to clean the microphones. Be sure to do it gently as the microphones could get damaged due to hard rubbing.
Reset the Headphones
If you don't get sound through the headphones, try to reset them. The problem might be with the headphones and not the device itself.
In case of wireless Headphones, the process of resetting headphones vary, take the help of the user manual if you need assistance. After that, reconnect them. Once you have reconnected your OnePlus smartphone to the headphones, check out if the audio is back. In case of wired Headphones, try and clean the connector and the jack and then see if you start getting any sound.
Update Software
No solution as yet? Don't worry as we still have a fairly reliable solution in the form of a software update to troubleshoot the headphone or microphone issues on the OnePlus device. Most software updates come bundled with a range of bug fixes and performance enhancements. So, updating the software on the device may work in getting rid of the issue.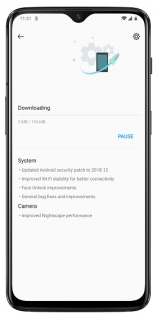 Image credit: OnePlus
Head over to the Settings app on your device and choose System. Now, tap on System Updates. Then, click on Check for updates. If there is any update available, download and install it on your OnePlus smartphone.
Reset Your Device
If the microphone/headphone issue still persists on your OnePlus device, it's time to go for a radical solution. With a radical solution, we mean erasing the entire data and resetting the smartphone. As the complete cleanup often fixes even complex issues, it often resolves this issue as well as long as it due to a software related problem.
Before erasing the entire content, make sure you have backed your device (Settings > System > Backup). Launch Settings app on your smartphone and choose System. After that, tap on Erase all data. Then, tap on Reset Phone.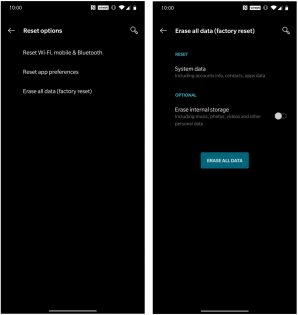 Image credit: OnePlus
Next up, enter your password/PIN and hit Next. Finally, tap on ERASE EVERYTHING to confirm the action.
If Nothing Works: Contact a Trusted OnePlus Device
If none of the solutions mentioned above has worked in solving the microphone problem or the ill-fated headphones issues on your OnePlus smartphone, there might be some hardware issues. If you are still facing issues with earphone, headphone or microphone even after trying all the above steps, contact a trusted OnePlus repair centre to fix your smartphone.
Speaking of a trusted OnePlus service centre, Rapid Repair is an eminent name across India. Thanks to the fast and efficient service at a cost-effective price point, we have emerged as the most preferred destination for troubleshooting OnePlus issues. So, reach out to us at the earliest to fix this issue.