Even though Apple frequently releases software updates for macOS (just the way it does for iOS and watchOS), the operating system keeps throwing weird issues in the wind that sometimes leave you scratching your head wondering what's gone wrong. Apple App Store not working issue on Mac is one such example.
But fret not, as in this detailed troubleshooting guide, we have come up with some viable solutions to fix Mac App Store issues. So, if you are unable to download apps on your Mac or find the macOS App Store too problematic, try out these tips to get rid of the issue.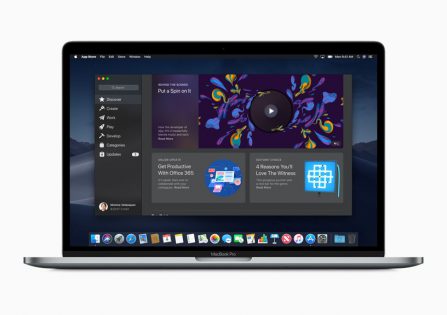 Image credit: Apple
Force Quit the App Store and Relaunch It
Force quitting often sorts out freezing or crashing apps. So, if the Mac App Store is crashing randomly or seems to get frozen, force quit the app. Simply right-click on the App Store icon choose Quit App. Or click on the Apple menu at the top right corner of the screen and choose Force Quit. Now, select App Store and hit Force Quit.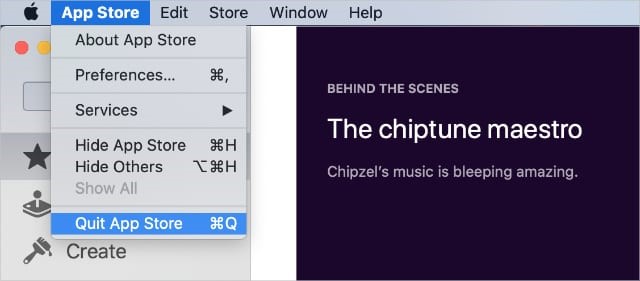 (Image Credit: Apple Toolbox)
Check Internet Connection
If the issue persists even after the force quit, check the internet connection. Turn off Wi-Fi and then restart your Mac. Once your Mac has restarted, turn on Wi-Fi. Now, launch the App Store and try to download any app to see if the problem is gone. Check your internet speed to ensure you have a good connection, as App store needs a stable connection to work and download apps properly, specially Apps large in size.
Ensure that Apple's Systems Are Running
When Apple's systems face an outage, several core functionalities such as downloading and installing apps come to a halt. So, make sure to check out if Apple's systems are up and running. If they are down, wait for some time until the outage gets sorted.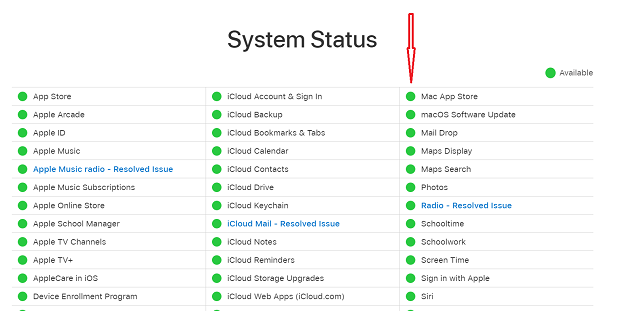 Head over to the system status page and then check if the circle right next to Mac App Store is green. If it is not, then Apple's system is going through an outage. If any service is Red, it means the service is down and we need to wait for it to be again to use it.
Make Sure Mac App Store is Not Restricted
You or someone else may have mistakenly restricted Mac App Store and forgotten to remove the restriction. If that's the case, be sure the macOS App Store is not limited to using Screen Time. Launch System Preferences and choose Screen Time.
Now, click on Content and Privacy in the sidebar and choose the Apps tab. Next, click on Options at the bottom left corner of the screen and then ensure that the Mac App Store is not unrestricted.
Sign Out of Apple ID and Sign Back In
If the Mac App Store still remains dysfunctional, try to sign out of your Apple ID and sign back in. Often, a fresh sign-in process does the trick in fixing miscellaneous issues.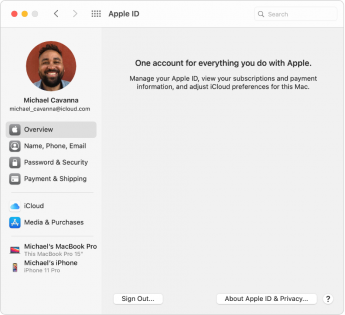 Image credit: Apple
Click on the Apple menu and select System Preferences. After that, click on Apple ID and select Overview in the sidebar. Next, click on Sign Out. Now, go through the onscreen instructions for copying and downloading your data stored in iCloud. Next up, follow the same steps to sign back in.
Update Your Mac
No solution as of yet? Bother not, as the latest software update could well be the answer to your problem. With every latest update, Apple introduces a bundle of bug fixes, changes, and performance enhancements.
Hence, the easiest way to keep your Mac away from the miscellaneous issues is to update the software frequently. Hopefully, it will fix the "Apple App Store not working" issue on your Mac. Open System Preferences app on your Mac and then select the Software Update. Now, download and install the update by following the usual process.
Bottom Line:
Having successfully resolved the Mac App Store not working issue on numerous occasions at Rapid Repair – an eminent Apple device repair centre, we can vouch for the above-mentioned solutions to get the job done for you. There are several other reasons why App Store might not connect like issues with the library files, certificates, or even the firewall may be blocking connections to App Store. In such cases, it is a little difficult to fix them using DIY solutions and need an expert to fix them, in which case we are always here to help you.
Known to sort out both hardware and software issues with unmatched proficiency, Rapid Repair is always here to provide you with the best repair work at a cost-effective price. So, reach out to us in order to resolve any problem.