Last year around this time, Apple launched the iPhone 14 Pro Max. The gadget, like almost any other from the house of Apple, was an instant hit. Its crystal crystal-clear display with a refresh rate of 120 Hz, 2796×1290 pixel resolution and a pixel density of 460 ppi, instantly became the tech talk of the town. However, after the launch, as the Earth is about to complete another circle of revolution, the news of an issue regarding the display of the gadget is also circulating! The iPhone 14 Pro Max screen burn-in issue. Though it's not very widespread yet, complaints are already visible on many Apple-related platforms.
But what's the scene with the gadget's screen? What is this burn-in?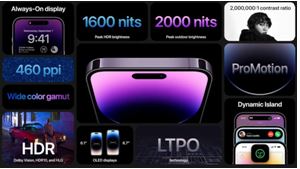 Source: FoneArena.com
We will get to that. But before, let's talk more about the iPhone 14 Pro Max's screen. Post 2017, with the launch of the iPhone X, Apple started introducing OLED displays in almost all of its iPhones. Now, with individual pixel illuminating technology, OLED offers a better dynamic range. Apple has taken care of every aspect of the upgrade by creating a custom OLED display panel. But, there's a catch!
OLED displays can retain a certain part of an image if it is shown on the screen for a longer time. This happens because of the way OLED displays are built, with each pixel playing its part individually. This is called screen burn-in.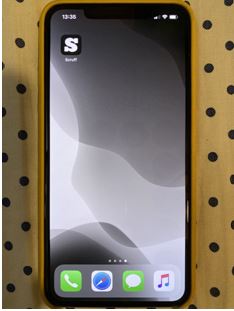 Source: MacRumors Forum
If you look at the above image carefully, you will see the burn-in shadow of another screen.
But why is this happening?
What's the reason behind the iPhone 14 Pro Max screen burn-in issue?
Most of the people who faced this issue confirmed that they have used the latest Always On display feature of the gadget. For those who are unaware, it is a feature that keeps the Lock Screen display on at all times. Even when the gadget is not in use, certain interfaces such as time, date, and widgets will always be visible, at a reduced refresh rate of 1 Hz. You can even keep your wallpaper, but that's optional. Now, a large section of the victims are complaining that they can see a shadow of certain Lock Screen elements in their iPhone 14 Pro Max displays. It means the Lock Screen elements were burned into the display.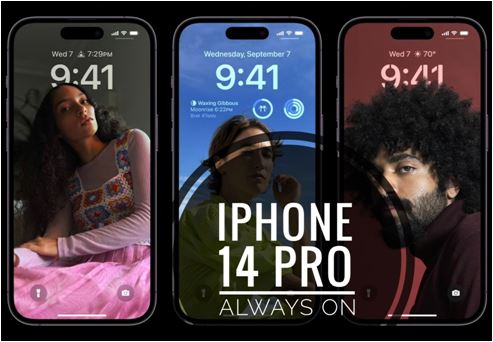 Source: iPhoneTricks.org
More importantly, these burn-ins were mostly visible in the Dynamic Island area. It is a part at the top of the screen near the front camera, which also houses other important hardware components, like the ear speaker, proximity sensor, and true depth camera. Now, there's a specific reason behind the issue being more prevalent in this Dynamic Island. Often, multiple hardware components settled in this area get active at the same time while we use our iPhones. For instance, the proximity sensor gets active to make sure that your iPhone's screen is off when you hold it against your cheek during a call. But there are times when you receive a notification while you are on a call. The notifications are usually displayed at this Dynamic Island area, hence activating the pixels assigned to display it. That's why, this specific area of your iPhone 14 Pro Max's display is more vulnerable to this issue.
Read Also – Face ID Issue In iPhone X & iPhone 11 Explained
Now, there might be other reasons that can amplify the iPhone 14 Pro Max screen burn-in. Here, we are listing a few.
Screen Brightness – Keeping the brightness at maximum for a long time may cause screen burn-in. As at the maximum brightness, the pixels are used at their limits, they can leave behind a ghost from the past!
Exposure to heat – Sometimes, even accidentally, we leave our gadgets behind for a sun bath. Or in a hot car. Now, this long exposure to heat can cause a burn-in.
Static image – Prolonged display of static images can cause a burn-in. In fact, this is the most common cause. If a certain group of pixels appears on the screen daily, for long hours, they can become permanently brighter than other pixels.
So, how to fix the iPhone 14 Pro Max burn issue?
Worry not, my friend. Every mishap is a part of the happening. So here's what to do if you ever face this issue.
Take a backup of all your data.
Restore your iPhone to factory settings.
Let it restart.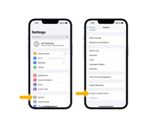 Source: AT&T
There's a chance that the burn-in issue will be fixed by this. But if the damage is more serious, you can visit your nearest Apple Store. Most of you may get a free screen replacement under your Apple Care+ warranty. Else, you can get help from any authorized service provider.
But, there are some steps that you can start taking as precautions. These might help you to avoid the issue.
Try not to use Always On Display with static images.
Don't expose your iPhone to direct sunlight or heat.
Turn Auto-Brightness on to avoid using your iPhone in maximum brightness.
Use a dark theme or wallpaper to reduce the risk of burn-in.
Though this issue of the iPhone 14 Pro Max screen burn-in is still rare, it is important to be aware of it and take the necessary precautions.
Read Also – The iPhone 11 Auto-Restart Issue: Why It Occurs & Ways To Fix