Remember the spy thriller movies that we used to love during our childhood? One of the most fascinating things about those films was the gadgets portrayed. From cars that can transform into submarines to watches that can project holograms, it fueled our tech imagination to a different level. Well, maybe you have to wait a couple of decades more to use such gadgets, but with the new Apple Watch Ultra 2, you will get a taste of the future.
Now, what's so special about this latest iWatch? Everything. That's how it has been designed. Here, you will get a comprehensive idea about the gadget. From its built, features, use potential, and price, there's everything that you need to know.
Built with a corrosion-resistant lightweight 49mm titanium case, it can be used underwater as well, to a depth of 100 metres. Moreover, it has successfully passed the IP6X dust resistance test. It can function in any temperature ranging from – 20°C to 55°C. Sounds like a perfect partner for your adventure sprees, right? Wait, until you know about the best things in it.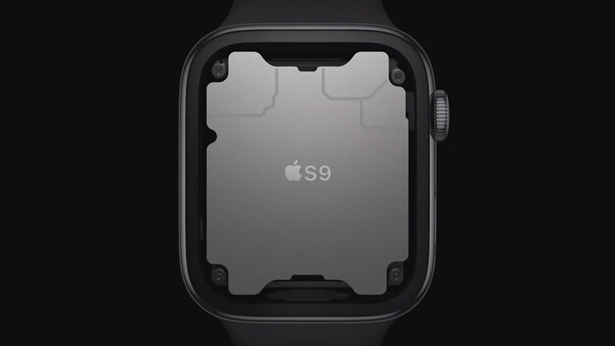 Source: AppleInsider
This iWatch is powered by the all-new S9 SiP chip, with a new dual-core CPU that has 5.6 billion transistors. It also has a 4-core Neural Engine that can process machine learning tasks at double speed.
Read – Apple Watch Series 9: A Glimpse into the Future of Wearable Tech
The display of this gadget is a technical masterpiece. It's an Always On Retina display with up to 3,000 nits brightness. This means even the harshest sunlight can't stop you from peeking at the display. Moreover, in low-light conditions, it can automatically dim to 1 nit. The display is also larger than the previous generation Apple Watches.
If we look closely at the body, we will get to know what a versatile gadget it is.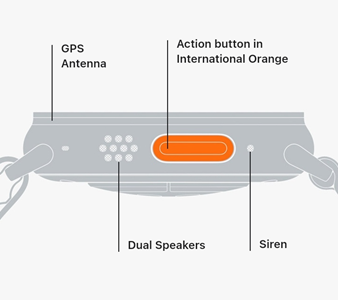 Source: Apple
Action Button – There's an Action Button the function of which can be customized for various purposes.
GPS Antenna – A dual-frequency GPS Antenna for an accuracy never witnessed before.
Dual Speakers – For a boosted audio volume, this gadget comes with dual speakers.
Siren – There's an in-built siren that can emit an 86-decibel sound pattern, which can be heard up to 180 metres.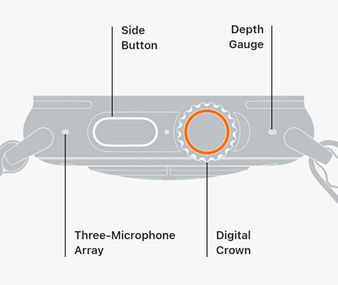 Source: Apple
Side Button – On the other side, you will get a side button to access multiple safety features like an emergency call or the siren.
Depth Gauge – This will provide a real-time underwater depth measurement of up to 40 metres, along with details about the water temperature.
Three-Microphone Array – For absolute voice clarity in windy environments, an adaptive algorithm will use the best microphone while machine learning will filter the noise.
Digital Crown – The digital crown has a larger diameter and coarse grooves to enhance user experience.
The battery backup is also excellent with up to 36 hours of normal use and it can be extended up to 72 hours if the low-power mode is enabled.
Also, as committed by Apple earlier, and aligned with their goal of a completely carbon-neutral product range till 2030, this gadget is available in a completely carbon-neutral combination of band and case.
Read – Apple Carplay in iOS 17 – What's New, Trending & The Latest for Your Car From Apple?
Features of Apple Watch Ultra 2
When it comes to the features of this new Apple Watch Ultra, it has all that you can expect from a smartwatch. So, here we will talk about some interesting upgrades, from a health, safety, and adventure sports point of view.
Health Features
Heart health – With an inbuilt ECG app that can record the heartbeat of the user using an Electrical Heart Sensor, it can monitor and notify about the user's heart health.
Sleep tracking – This gadget can keep track of your sleep cycle in three sleep stages, REM, Core and Deep.
Blood Oxygen – You can get readings of your blood oxygen levels to monitor your overall health.
Safety Features
Crash Detection – In case of emergencies like a car crash, algorithms and machine learning will work out to sense the crash and contact emergency services, by providing an exact location.
Fall Detection – The device can detect a sudden fall, and if the user is unresponsive, it will contact the emergency services automatically.
Emergency services – In case of any emergency, if you press and hold the side button, it will contact the emergency services and share your location for a certain period.
Fitness Features
Customized Workout Plans – You can set your fitness goals and schedules and monitor your progress.
Multi-sports workout – You can combine multiple activities like running, cycling and swimming into a single workout routine and monitor it.
Support for fitness apps – You can install multiple fitness apps to keep track of your fitness routine.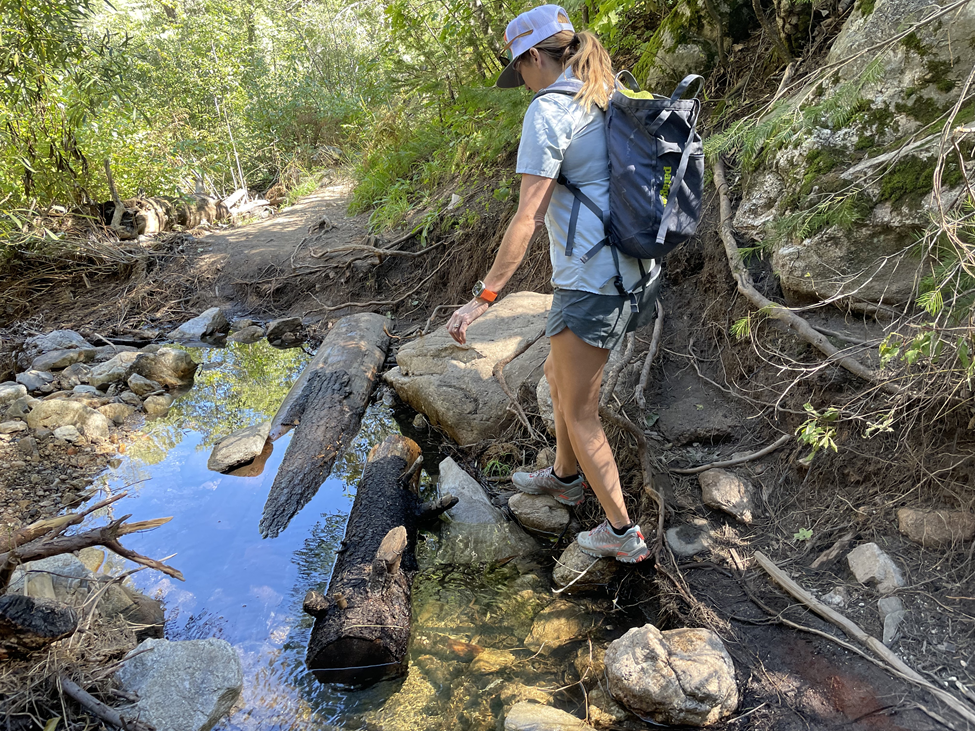 Source: TechCrunch
Adventure sports – With features like dual-frequency GPS, accurate Compass, underwater depth and temperature measurement, and much more, it's like a computer on the wrist of an adventure sports lover.
Price and variants of Apple Watch Ultra 2 in India
Coming to the price, as of now, in India, it starts from a price range of ₹89,900/-. The watch is available in just one colour, with three different colour variants of the band.
Why buy the iWatch Ultra 2?
Now, if you are into adventure sports like cycling, deep-sea diving, or mountaineering, you don't need further reasons to buy Apple Watch Ultra 2. But apart from that, you can buy this lovely smartwatch to monitor the health of yours or your loved ones. This iWatch is as effective in the hustle of urban life, as it is in the wilderness.
Got issues with your iPhone, iPad, MacBook or any Apple device? Is a trustworthy repair centre not in sight? Don't worry, the experts can help you get a free pickup and drop service and provide a bright Apple Watch repair solution for all your Apple woes. Call today for Apple battery replacement, screen replacement, and other top repair services.