In September 2019, when Apple launched its latest model of iPhone, it created a wave of excitement. For many, the iPhone 11 was their first Apple product. Even a small scratch on its sleek & slim body was enough to raise the blood pressure of its users. But as some wise person once said, mishaps are a part of happenings! So an ugly crack on the screen of your iPhone 11 was just a matter of time. It happened because it was supposed to happen. Period! Now let's talk about how to get it fixed and the iPhone 11 screen replacement cost. Because money matters, and so does value for money. But before that, let's have a look at the specifications of an iPhone 11's display.
iPhone 11 Display – Specs & features
Though Apple introduced OLED display panels with the iPhone X, the display of the iPhone 11 is LCD, because it is a successor of the iPhone XR. Even then, it has its own magic! From the below points, you will understand why.
Liquid Retina HD display for high-quality visuals.
A diagonal screen size of 6.1 inches with an all-screen LCD Multi-Touch display powered by the IPS technology.
Pixel resolution of 1792‑by‑828 at 326 ppi.
A typical contrast ratio of 1400:1.
True Tone display for more natural colours.
Wide colour display (P3) for wider shades of colours.
Haptic Touch for smooth touch operations.
A maximum brightness of 625 nits.
Fingerprint‑resistant oleophobic coating for enhanced screen protection.
So, these are the mechanisms behind the wonderful functioning of the iPhone 11's display. But the complicated part here is, that the display panel is attached to the screen, and it is a whole unit altogether. So, even for a slight crack on the screen, the entire display panel will be required to be replaced.
Read More – iPhone 12 Battery Replacement Cost
iPhone 11 screen replacement – Options to get it fixed
Getting a broken gadget fixed is not a big deal anymore. There are multiple options around. But if you don't choose the right one, it can turn into a big deal for your device. For instance, the local repair shops near you. There are many in every town. But their service quality is very unreliable. For a case of iPhone 11 display damage, they might simply try to replace the screen, causing further damage. Moreover, they don't have access to OEM spare parts. OEM parts are the original parts used in Apple gadgets. So, even if they partially succeed, you will not get the same 4H/6H thickness, oleophobic coating, and of course the smoothness of the touch. Now, from iPhone 11 onwards, Apple started putting serial numbers on every part of an iPhone, like display, camera, battery, etc. Only if the display panel consist of the original display, touch IC, and frame, it will calibrate with the iPhone's serial number. If duplicate parts are used, an error message, like the one in the image below will appear.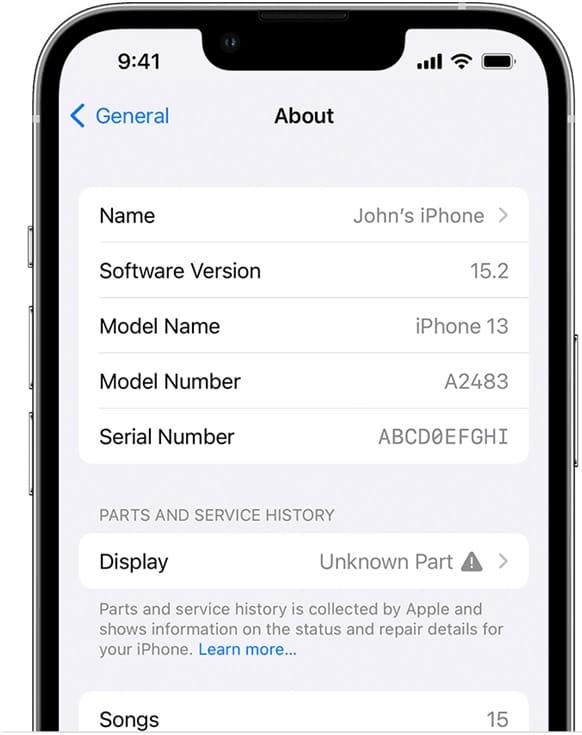 Source: Apple Support
It may also restrict some other features of your iPhone 11. Also, certain SW tools are required to effectively calibrate the display panel as per the criteria. Not any random repair service provider can get a hold of them. Hence, going to a local repair shop is a big no!
So, there are only two valid options to repair iPhone 11 screen. First is an Apple Authorized Service Centre and second is any Independent Repair Provider or IRP. In both options, you will get genuine OEM parts and they both use SW tools. Here, we will guide you about not only the iPhone 11 screen replacement cost but also the iPhone 11 pro screen replacement cost and the iPhone 11 pro max screen replacement cost, in both options.
Cost of iPhone 11 Screen Replacement at Apple Authorized Service Centre
To know about the cost involved in an Apple Authorized Service Centre, you can click on https://support.apple.com/en-in/iphone/repair and enter the required details. You will get an estimate. The below screenshot will guide you further.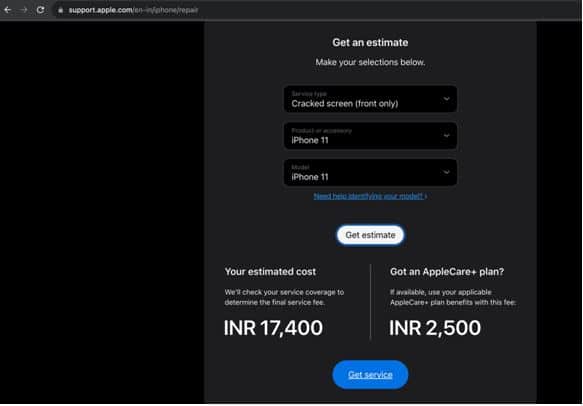 Source: Apple Support
iPhone 11 Screen Replacement Cost at Rapid Repair
To give you an idea about the estimated cost involved in getting the display of your iPhone 11, iPhone 11 Pro or iPhone 11 Pro Max replaced, we are sharing the price charged by Rapid Repair. Rapid Repair offers the best price and service and they are India's most trusted Independent Repair Provider.
As an IRP, Rapid Repair provides a pan-India service. So they can offer you a same-day iPhone 11 screen replacement in Gurugram and other cities, with a free doorstep pick up and drop of your device, 24×7 customer support, lifetime warranty and extraordinary service.
Got issues with your iPhone, iPad, MacBook or any Apple device? Is a trustworthy repair centre not in sight? Don't worry, the experts can help you get a free pickup and drop service and provide a bright repair solution for all your Apple woes. Call today for Apple battery replacement, screen replacement, and other top repair services.