Yesterday, as the world was preparing to celebrate Halloween, Apple conducted the 2023 edition of Scary Fast Event in California. It was an online event that was live-streamed around the world. Now those who are aware must know that this event was being speculated for a long time. Reason? All the rumours around the next generation of MacBook Pro and iMacs. Incidentally, this year marks the 40th anniversary of the first-generation iMac. And with all the new upgrades, the tech giant made sure that the celebration was grand. How? We will come to that. Here you will find all the details about Apple Scary Fast Event 2023, with a proper review of all that has been unveiled.
Apple Scary Fast Event – The launch of the M3 Series chips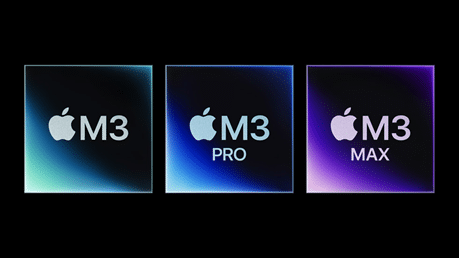 Source: Apple
At the event, Apple introduced us to a new dawn of technology with its latest M3, M3 Pro, and M3 Max processor chips. These chips are way faster than any of their predecessors. The reason behind it is the 3-nanometer process technology, which can hold more transistors in a compact space. They also feature a next-generation GPU and a new technology called Dynamic Caching for enhanced efficiency.
As claimed by Apple, the rendering speed will be 2.5x faster than that of the M1 family of chips. Also, the CPU performance core will be 30 per cent faster and the efficiency core will be 50 per cent faster. The CPU of the M3 chip is 8-core with a 10-core GPU. The CPU of the M3 Pro chip has 12 cores, with 18 cores for graphics. In M3 Max, there are 16 main cores and 40 graphics cores. They are 80% faster than the M1 family of chips.
A new media engine is also featured with support for AV1 decode, to provide more high-quality video streaming.
Apple Scary Fast event – The all-new versions of MacBook Pro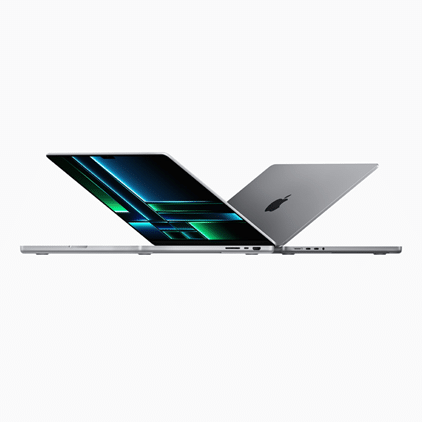 Source: Apple
In the event, Apple announced the launch of an all-new MacBook Pro lineup powered by the M3 series chips. There's a new 14-inch MacBook Pro with three versions, each featuring either the M3, M3 Pro, or M3 Max chip. Another 16-inch MacBook Pro is also launched with the option to select between M3 Pro and M3 Max chips. Both will be available in space-black colour.
The battery backup of these laptops is up to 22 hours. That's the best in MacBook Pro family laptops. Even the most professional apps will run smoothly and without any hassle.
Apple claims that the display of these new generation MacBook Pro laptops is the best laptop display ever. The Extreme Dynamic Range (XDR) will ensure spectacular highlights, detailed shadows, and true-to-life colours. The Liquid Retina XDR display also features ProMotion and Pro reference modes.
For an enhanced user experience, these laptops consist of a 1080p camera, studio-quality three-mic array, and a six-speaker sound system. They also pack a powerful array of ports with Thunderbolt, HDMI, SDXC, headphone jack, and MagSafe. They support both WiFi 6E and Bluetooth 5.3.
The pre-booking window for these new MacBook Pro laptops is open now, and they will be available from the 7th of November. The price of the new MacBook Pro starts from ₹1,69,900/-.
Read – iOS 17 – What's New for you, Compatibility, Feature Do Update or Not
Apple Scary Fast Event – The all-new 24-inch iMac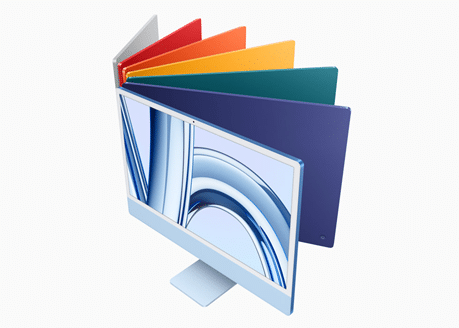 Source: Apple
At its 40th anniversary, the iMac family got its most powerful member yet with an M3 chip. This new 24-inch iMac is 2X faster than the previous generation model. If it is compared with the Intel-based iMac, it is 2.5x faster. It features an expansive 4.5K Retina display with 11.3 million pixels and over a billion colours, faster wireless connectivity, and a seamless experience with the iPhone. Thanks to its best-in-class camera, speakers, and mics, along with macOS Sonoma, some experts claim that this 24-inch iMac with M3 is the best personal computer ever. This model comes with an 8-core CPU, 8-core GPU, 8GB of memory, 256GB SSD storage, and two Thunderbolt ports. Apple includes the Magic Keyboard and Magic Mouse with the 24-inch iMac. It is available in green, pink, blue, red, yellow, orange, and silver colour options. The new iMac 2023 price starts at ₹1,34,900/-.
So this was all that we got from the latest Apple Scary Fast Event. And we can't say we are disappointed this time. The M3 series chips will undoubtedly start a new era of personal computing. So, are you planning to upgrade?
Got issues with your iPhone, iPad, MacBook or any Apple device? Is a trustworthy repair centre not in sight? Don't worry, the experts can help you get a free pickup and drop service and provide a bright Macbook repair solution for all your Apple woes. Call today for Apple battery replacement, screen replacement, and other top repair services.